During my freshman year of college, I met Ray Bradbury at Earthling Bookstore in Santa Barbara, California. Mr. Bradbury was there signing copies of his newest book, Zen and the Art of Writing, a collection of essays on writing and the creative process.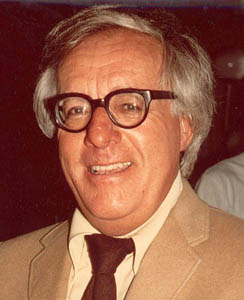 The line was lengthy, and the wait was considerable, as Mr. Bradbury took his time to chat with everyone who came up for an autograph, getting to know a little about them, trying to make even the briefest of connections with someone who liked his work enough to come and see him. It's a lesson I've never forgotten.
When it was my turn to approach him, I stammered something about how much his work meant to me, but Mr. Bradbury wasn't interested.
"What about you? What are you studying?"
I told him I was an English major, and that I wanted to be a writer.
"Are you writing every day?"
I told him I was, which was true.
"Then you're already a writer. The key is never to stop."
He asked me what I wanted to write, and I told him comic books. Mr. Bradbury's eyes lit up.
"I love comics! I collected Buck Rogers strips as a boy, cut them out of the newspapers!"
I walked away with two things, each that would become more valuable as the years went on: a memory of meeting a literary hero of mine, and a copy of Zen and the Art of Writing.
That copy of Zen and the Art of Writing set next to my typewriter all through college. Typewritten quotes from it hung on the bulletin board above my typewriter, as a reminder and encouragement.
           What do you want more than anything else in the world? What do you love, or what do you hate?
            Find a character, like yourself, who will want something or not want something, with all his heart. Give him running orders. Shoot him off.  Then follow as fast as you can go. The character, in his great love, or hate, will rush you through to the end of the story. The zest and gusto of his need, and there is zest in hate as well as in love, will fire the landscape and raise the temperature of your typewriter thirty degrees.
And this.
          You must stay drunk on writing so reality cannot destroy you.
And this.
          If you did not write every day, the poisons would accumulate and you would begin to die, or act crazy, or both.
And this.
          Writing is supposed to be difficult, agonizing, a dreadful exercise, a terrible occupation.
And above all this.
          And what, you ask, does writing teach us? First and foremost, it reminds us that we are alive and that it is a gift and a privilege, not a right.
Today, a simple turn of my head to the left and I can see that same copy of Zen and the Art of Writing in my bookcase, Mr. Bradbury's eyes watching over me still.  And on my desk in front of me every day as I write is a large collection of Mr. Bradbury's short stories, a gift from a close friend. I don't crack it open and enjoy it as often as I should; too many small jobs and petty distractions pulling me away. But I find great comfort and inspiration in seeing it there every day.
It reminds me that, like living, writing is a gift and a privilege, not a right.
Ray Bradbury was 91 years old.